The Parents of the Year (POY) program is a unique family recognition program that has existed at Texas A&M since 1956. When the program began in 1956, it was known as the Aggie Mother of the Year program. Current students would nominate deserving Aggie Mothers and they would be honored at Mother's Day ceremonies. In 1974 the award was changed to Parents of the Year, yet the selection and announcement process remained the same. Although the announcement process looks slightly different from present day, all other aspects of the program remain the same.
The award, given once a year, recognizes the dedication and involvement of Aggie family members. Families selected as Parents of the Year are invited to be recognized during Family Weekend events, Parents of the Year reunion events, and other campus activities.
MEET MELISSA...
2023-2024 Parent of the Year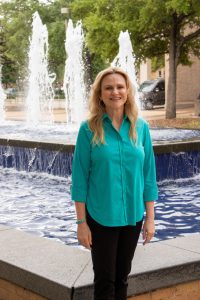 We are proud to have Melissa Wilkinson serve as our 2023-2024 Parent of the Year. Melissa was nominated by her daughter, Gabriella Romano '24, who surprised her virtually from Scotland on a study abroad trip.
In her nomination, Gabriella describes her mother as embodying all the Aggie core values but especially Excellence and Selfless-Service. "My mother embodies these values through her work with my older brother and others with disabilities," she said.
This selfless service and dedication to excellence carried over to Melissa's job working with high school students with disabilities. As the transition coordinator, Melissa works to determine students' interests and academic ability and then connects them with options, whether that is college, the workforce, or long-term care solutions.
When asked what her initial reaction was, Melissa said, "Disbelief. Disbelief was soon followed by tears as I realized that Gaby was on a video call telling me all I meant to her."
The press release announcing Melissa's status as Parent of the Year can be found at today.tamu.edu.
Do you want to be the next Parents of the Year?
Nomination deadline is February 26